Home
>
Products
>
Handheld InkJet Printers
InkJet Case Coding and Inkjet Marking for Products and Packaging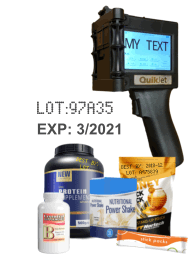 The QuikJet Handheld InkJet Printer is popular for Inkjet Date Coding CPG's or Part Marking and Pharma Lot Codes
---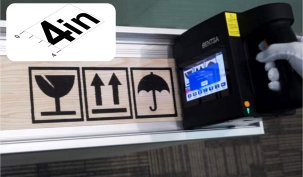 Bentsai B85 FOUR INCH Handheld Inkjet Printer for Large Format Box Printing and Product Packaging Labels.
---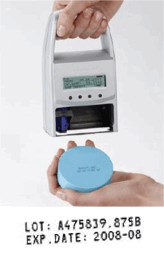 Using the InkJet Printer to Code Plastic Bottes with Expiry Date and Lot Number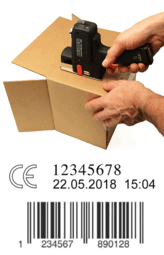 Handheld InkJet Printing Barcode, Time Date and Numbering on Cardboard Case
Handheld InkJet Printing Marking Graphics on Metal box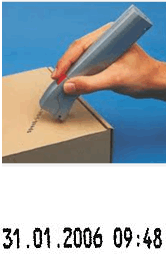 Time and Date Stamping a Cardboard Box with the Mobile Handheld InkJet Printer Pen.
Replacement for Dymo DateMark Date/Time Stamper
---
SoJet Handheld Printing High Resolution Barcodes on Cardboard Boxes and Product Packaging.
---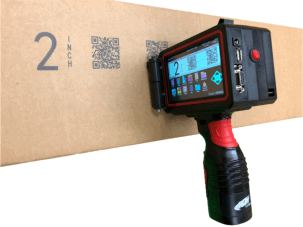 TouchJet TWO INCH Handheld Printer for QR Barcodes on Cardboard Boxes and Product Packaging Label Maker.
---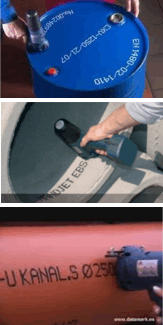 HandJet EBS250 Printing on Concrete Pipe and Metal Oil Drum.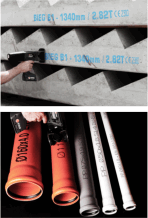 HandJet EBS 260 shown InkJet Marking on Concrete Slab and Metal or PVC Pipe products.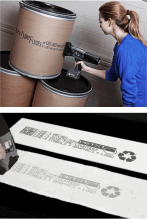 HandJet EBS260 shown InkJet Coding on Paperboard Cores and Textiles Industry products.
Choose Handheld InkJet coding printers and marking solutions to increase productivity and save you time and money
very affordable and practical, compared to in-line inkjet systems
Handheld inkjet printers can print on nearly anything, from coated cardboard to glass bottles and more. Whether you work in an office and need a device to help you get through your paperwork faster, or in a factory seeking to add redundancy to your in-line marking operation.


Our handheld ink-jet printers allow you to mark products quickly and individually, adding a new level of flexibility to your workflow. For Small Character inkjet coding select the Reiner JetStamp Marking Equipment.
If your inkjet coding requiremets are for larger products and case goods, choose the HandJet EBS250 Mobile InkJet Coding Printer, which offers Large Character imprints.

For InkJet Marking up to 2.20 inch imprints and built-in WiFi communications for data integration, all with color touchscreen control, choose the brand-new EBS260 HandJet, now available.
We Specialize in Handheld InkJet Printing Equipment to meet your exact requirements.

Call Toll-Free 1-888-838-5391 or Contact us via E-Mail.
Applications for Handheld InkJet Printers
Metal Parts Marking
Product Case Coding
Accurate Printing on Uneven Surfaces
InkJet Coding of Plastic Bottles
Industrial Pipe Marking
InkJet Printing on Concrete Culverts and Pipe
Handheld Inkjet Printer Supply for your Business
Large or Small, Simple Coding or Complex Marking...the Handheld Inkjet Printer is for growing companies and large enterprises. Carpenter's Time Systems offers robust solutions for Handheld Printing, from simple Date Coding to customized inkjet marking designed for ease of use and addressing the workflow of your organization.