Time Date Stamp Machines
Choose the W
idmer T3 or T3-LED
(digital display)
for a Heavy-Duty Time Date Stamp
that is built with quality to produce quality imprints and provide you lasting performance.
For Date Stamp only applications choose the Widmer D3 Date Stamp.
Time Date and Number Stamp Machines
The Widmer 776 or 776-LED (digital display) is built like a tank compared to other time stamps...Dual Printing Heads enable numerous combinations of Time Dating and 6-Digit Numbering. (optional 11-Digits Numbers or Alpha Wheels for special coding)
For Number only applications choose the Widmer N3 Number Stamp.

Electronic Time Date and Number Stamp Machines
The Amano NS5100 Electronic Time Date Number Stamp offers reliable operation with the convienance of automatically advancing the Year, Month and Date, a feature not found in mechanical time date stamps. Also, a Battery Backup maintains the correct time during power failures.
NOTE: Upper and Lower Text Printing Plates not available on this machine.
Read More

OATS Compliant Electronic Time Date and Seconds Recording Stamp
The Amano TS3000i Time Date Seconds Stamp System (digital display) features automatic time synchronization with the NIST Atomic Clock via your network and an internet connection. Commonly used by NASDAQ Traders, this stamp machine prints Year, Month, Date, Time and Seconds as well as providing Transaction Report Logs and EMail Alerts making it OATS Compliant and an affordable choice for small trading operations. For larger trading offices that need to manage the time synchronizations of many Document Stamp Machines, add the optional ATVS Software from Amano, for an enterprise OATS Time Stamp Validation System.
Read More
Transcript Validator - Date and Embosser Logo Stamp Machine
The Widmer 776E Student Transcript Validator embosses a raised university, government or corporate seal , while at the same time printing a combination of Signature, Title, Date and additional text...All in One Pass!! For a printed rather than embossed seal choose the Widmer TV-776 Transcript Validator machine.

Portable - InkJet Time Date Number Stamps
The 6th item in this Time Date Stamp category is a truly remarkable machine. Reiner is the industry leader, in the manufacture of Portable Time Date and Number InkJet Stamps. Each Reiner JetStamp includes the PC-Set configuration software, for user customized stamp imprints, of 1-line or 2-lines, all in a handheld completely mobile unit..
Read More
Time Date Stamp Machine Facts
solving process issues
Electric Time Date Stamps have been manufactured since the early 1900's. This machine while similiar in function to the traditional time recorder used in payroll timekeeping, is used in very different applications and is a completely different piece of equipment. It is not uncommon for a Time Date Stamp Machine to imprint 1000 or more times a day. Manufactured for Heavy-Duty use, Electric Time Date Stamps print on a wide range of surfaces such as, onion skin paper to heavy card stock or multiple copy forms.
Initiate better Document Control with our Automatic Time Date Stamps. Replace your manual hand stamping routines with an automatic procedure that will increase volume and print quality as well as reduce fatigue. We Specialize in customizing Time Date Stamp Equipment to meet your exact requirements.

Call Toll-Free 1-888-838-5391 or Contact us via E-Mail.
Optional Features to Customize a Time Date Stamp
Digital Time Display.
Inscription Print Plates for custom text...choose from Upper and/or Lower print plates with up to 3 Lines of Text per plate (21-25 characters per line, including spaces).
Adjustable Extension Trigger...allows the increase or decrease of the standard margin setting to select where the print falls on the page.
Six Sided Word Imprint Cylinder...up to 6 different user selectable text imprints per time date stamp machine. Perfect for applications where different persons that work at the same desk/station or to identify different phases of a process or job.
Removable Print Plate...where security and integrity is more important, this will accomodate different users that move to and from machines/work locations. i.e.; bank tellers would insert thier removable plate in a time date stamp machine, thereby identifing the transcations performed by them.
Military Time...replace the standard AM-PM Hour print wheel with a 0-23 Hour wheel.
Ribbon Ink Colors...Purple is standard. Other colors include; Black, Red, Green or Tri-Color (red, green, purple on one ribbon)
Who Buys Electric Time Date Document Stamps?
Time Date Number Stamps are needed by any organization or company that needs to know When, Where, or by Whom any type of document or paper was received, processed or fowarded.
Time and Attendance Systems for the large enterprise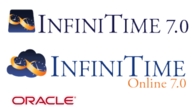 500 to 5000+ Employees...InfiniTime is the Time & Attendance software for large enterprises and growing companies. A robust solution powered by the included Oracle database, designed for ease of use and addressing complex Payroll and HR Timekeeping.
Read More

Replacement for Dymo DateMark Electronic Date/Time Stamper