Home
>
Products
>
Bell Timers
>
Bell Timers
The Bell Timer can be as simple as a School Bell Timer for Bell Schedule processing or as a Break Time Sounder System in the Factory. Now with Bell Timer Software and devices that have embedded Web Servers, Mass Notification and Alert Notification is more powerful than before
Bell Timer Programmable Break Bell System and School Bell Timer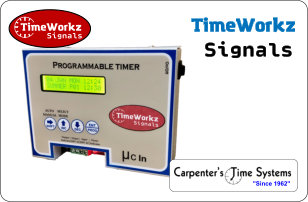 TimeWorkz Signals Bell Timer stand alone
Current Generation Bell Timer, The TimeWorkz Signals offers superior features in a stand-alone Programmable Timer not found in competitive bell timer devices, namely the Lathem Sonachron. This Bell Timer System offers the option of individual ringing duration for each time signal programmed. The Instant Ring Button allows user to manually activate the Relay-Contact to signal the Break Buzzer or Break Bell to sound, this feature saves the cost and hassle of additional wiring.
Three Modes for Bell Schedule, can be switched via the Keypad, providing a wide range of applications for your facility and conveniance where firms have multiple Time Schedules to manage.
Holidays to inactivate the bell timer are also supported in the TimeWorkz Signals device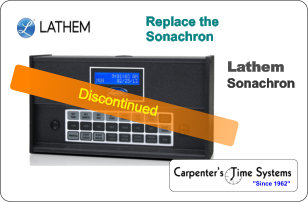 Lathem Sonachron Bell Timer
The Lathem Sonachron was a very popular Programmable Timer for Break Bells and to control Break Buzzer sounder devices. Lathem Bell Systems company discontinued the Sonachron without much of a warning or alert to the industry.
Carpenter's Time Systems
is taking up the slack,
now offers viable alternatives to choosing a Lathem Sonachron replacement.


---
Bell Timer Bell Commander Software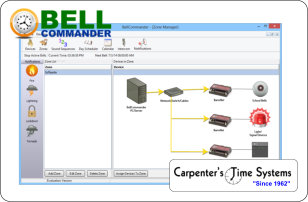 Bell Commander Alert Notification Bell Timer Software
Desktop Easy-to-use, Desktop Break Bell Timer System Software and school bell system with advanced mass notification. Play school/factory bells, announcements, and music over your existing PA or intercom system. Play scheduled audio and send live audio pages to PCs or Macs around your organization. Use network audio players to play scheduled audio and live pages in classrooms and other buildings. Control your existing bell system or factory bells/horns using IP Ethernet Relay Controllers or USB Relay Controllers. Prepare and Send automated pages to
phone-based paging systems. Send live pages for
emergency notification to network audio players and client
PCs and Macs.
---
Web Based network System with embedded Bell Timer Software
TimeWorkz Signals Net/IP Bell Timer System
Local or Remote Bell Timer System that offers flexibility for Mass Notification and Alerts for Employees or Students. TimeWorkz Signals Net/IP Bell Timer System.
---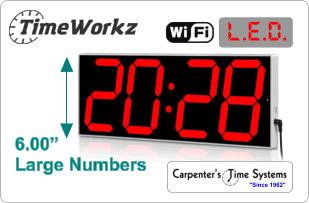 TimeWorkz Large LED Clock
The TimeWorkz LED is a Large LED Clock time clock that provides high visibility with Large Digital Display LED's.
Large 6.00inch Digital Numerics.
Set as 12Hr or 24Hr format.
An LED Wall Clock with WiFi Synchronization and remote control via a Cell Phone or Web Browser on the network or manual remote, exclusively from Carpenter's Time Systems and TimeClockeShop.com.
---
Partner with Us
diverse Bell Timer programmable devices and systems
P: 409-838-5391
TF: 888.838.5391
7090 College Street
Beaumont, Texas 77707
Useful links
for your reference
---
Industrial Bell Timer Terms
Auto Bell Timer
Programmble 7 Day Bell Timer for automatic signaling of Bell Times.
Bell Schedule
Bell Schedules define the start time and signals duration for each schedule period in your school.
Factory Lunch Bell
Lunch Truck arrives at worksite, supervisor manually rings the Bell Timer to alert employees.
Warehouse Bell Ringer
Signal Bell sounder for alert notification of warehouse delivery via RF Remote controller.
Work Shift Bell
Programmable Bell Times for Mass Alert Notification of employees to start/stop work and breaks.
School Bell System
Mass Notification System for students and faculty to move and change instructional class periods through the day.
Information Center
Contact Us for any item below



---
P: 409-838-5391
TF: 888-838-5391
---