Home
>
Products
>
Time Date Stamps
>
Handheld InkJet Printers
>
Find Replacement Printers for Dymo DateMark
document, process validation Date Time stamper, Dot Matrix or Mobile Handheld Ink Jet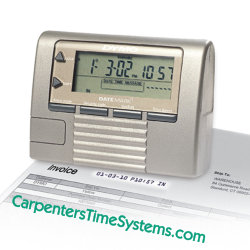 Reiner Speed-i-Jet 798 Mobile Date/Time Printer Pen
More and more, the
Speed-i-Jet 798
gains popularity and proves itself as a sturdy Hand Operated Inkjet Printer that
surpasses the features and functionality of the Dymo DateMark
with imprints of up to 40 Characters on 1-Line.
Press the Red Print-Button and move across the document, to generate the printing/imprint.
Product Purchase Details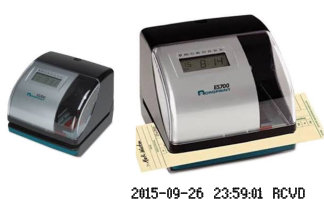 Acroprint ES700 Electronic Date and Time Document Stamp Machine
The
ES700 is an Electronic Date/Time Stamp printer designed for desktop use
. Reliable operation with the convienance of automatically advancing the Year, Month and Date. Also, a Battery Backup maintains the correct time during power failures.
Insert the paper document and printing is automatic, with the Dot-Matrix printhead and ink ribbon.
Product Purchase Details
Portable JetStamp 790 - InkJet Date/Time Stamper
Reiner is the industry leader, in the manufacture of Portable Time Date and Number InkJet Stamps. The JetStamp 790 includes the PC-Set configuration software, for user customized stamp imprints, of 1-line or 2-lines, all in this handheld completely mobile unit.
Place the printer onto surace to be printed, next Press the Red Print-Button and printing/imprint is automatic, with the self-traversing printhead.
Product Purchase Details
DYMO Electronic Date/Time Stamper Facts
out with the old, in with the new
The Product SKU for the Dymo DateMark was 47002. Now discontinued, many firms are wondering what products exist that perform similiar to the old Dymo Datemark. Newer technologies and a replacment solution can now be sourced from Carpenter's Time Systems.

Here is how the Dymo Manufactuer described the product. DateMark Date/Time Stamper - You'll wonder how you ever managed without this versatile electronic stamper. Now, it's simple to imprint vital tracking information directly onto mailing materials, invoices and your other important documents before they reach a colleague's desk or your client's. Prints the current date/time, any of seven messages (IN, OUT, PAID, FILE, REF, CFMD, RCVD) you specify, as well as serial numbers with its built-in auto-counter.

In with the New - Reiner Handheld Inkjets Printers go above and beyond the Dymo DateMark capabilities with the ability to print up to 40 characters in One-Line printing on porous surfaces. Join the next generation of Mobile printing and replace your old Dymo DateMark with the sturdy and innovative Reiner Speed-i-Jet 798 or for two-line printing, select the model JetStamp 790. For Desktop Date/Time Stamp printing or when you must print through multiple copies of the same document, select the Acroprint ES700 Electronic Time Date Stamp.
Initiate better Document and Process Control with our Date Time Stampers and Printers. Replace your outdated or broken Dymo DateMark with an cutting-edge product. We Specialize in Date Time Stamper Equipment, with Dot-Matrix or Handheld InkJet technologies to meet your exact requirements.

Call Toll-Free 1-888-838-5391 or Contact us via E-Mail.
Features that allow user to Configure the Date/Time Stamper
Digital Time Display. is only available on the electronic Date Time Stamp machine and the multiple-line printer.
Print Custom Text...configure the printer to print some canned messages, along with the Date and Time.
messages such as; IN, OUT, PAID, FILE, REF, CFMD, RCVD, VOID, CMPL'D, SENT, USED, ORIGIN, FAXED, APRV'D
Adjustable Print Trigger...allows the paper to automatically trigger the printer on the Dot-Matrix machines. Printing is initiated by pressing the print-button, when utilizing the Handheld InkJet Date/Time Printers
Automatically Advances Date and Time...desktop printer requires no resetting. however, replacing batteries on the Speed-i-Jet 798 inkjet printer, requires resynching with the PC, to reset Date and Time.
Consecutive Numbering...if required configure the imprint of auto-incrementing numbers, 2 digit, 4 digits, etc.
Print Plate not available on machines above...however, some machines and printers can print multiple lines of custom text.
Military Time...simply configure the standard imprint of AM-PM Hours, to print 0-23 Hours instead.
Ribbon Ink Colors...Black is standard. Other colors include; Purple or Red.
Ink-Jet Catridge Colors...Black is standard. Other colors include; Blue or Red.
Who Buys Dymo Date-Time Document Stampers?
Time Date Number Stamps from Dymo were needed by any organization or company that needs to know When, Where, or by Whom any type of document or paper was received, processed or fowarded.
Time and Attendance Systems for the large enterprise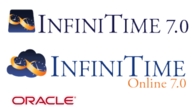 500 to 5000+ Employees...InfiniTime is the Time & Attendance software for large enterprises and growing companies. A robust solution powered by the included Oracle database, designed for ease of use and addressing complex Payroll and HR Timekeeping.
Read More