Home
>
Products
>
Handheld InkJet Printers
>
Portable InkJet Coding and Marking Handheld Printer - Label Maker
print logos, expiry dates, barcode and text on concrete, pipe, cardboard and wooden shipping crates...Label Maker InkJet Printing, up to 2 inches

The TouchJet TWO Handheld InkJet Printer is a fully portable printer that makes offline Package Marking and Products Marking simple and efficient...with a very professional print result.

Imprint Large-Jumbo Text characters; Consecutive Numbering, Time and Date, as well as graphics.. The Handheld Printer TouchJet TWO can print on absorbent or nonabsorbent surfaces, such as metal, concrete, wood, plastic, or glass. Common uses are for, part numbers, lot and expiration dates. The Color Touchscreen display allows you to easily select the message that needs to be imprinted.


*The included Software is internal to the printer, and does NOT require a PC, the user can pre-configure each Print Message via the Touchscreen, or via the onboard USB Port if the USB Mouse is connected.




Features of the TouchJet TWO InkJet Coding Printer


Multiple line imprints, imprints can consist of, Variable(s) data
Variable Print Data can be configured; Counters, Expiration Dates, etc
Automatically advances the Time, Date and Numbers internally
The Multiple line imprints can be scaled...i.e.; each line can a different size
Imprint Sizes: Very-Small .125", Small .47" (12mm); Medium .86" (22mm) and Large up to 1.06" (27mm) and Super-Large up to approx 2 inch (48.00 mm) maximum imprint can be configured.
Simple Operation, easily selects stored imprint with reference on Touchscreen display
Store and recall the Print Messages; the imprints can incude Custom Text, Time-Date or Numbers and hi-res Graphics and Barcodes
Ink Cartridges: Acetone in various colors
**Black Ink Color, standard. NEW Color Inks now available; White, Green, Orange Blue, Red and Yellow.
Ink Jet printing per cartridge
**Ink Colors are Interchangeable-YES.
TouchJet Two will print on and ink will adhere to; porous/absorbent surfaces AND non-absorbent surfaces including, concrete, metal, glass,wood, cardboard and most plastics

Battery Capacity: approximately 10 Hours of Operation




optional accessories for TouchJet TWO Inkjet Coding Printers


Print Stabilizers and Fixtures of various types, for use when InkJet Coding and Marking on pipe, and other projects where alignment is a challenge.



Consider the Supplier behind the System...
"Since 1962"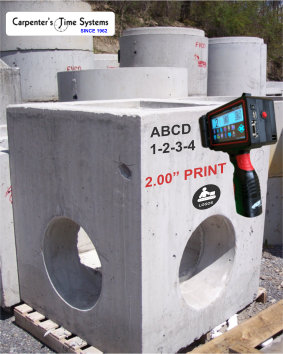 Product Resources
brochures, manuals, technical specs
Dimensions: 0"(w) x 0"(h) x 0" (thick)
Shipping Weight: 7 lbs

TouchJet TWO Weight: approx. 1 lbs
TouchJet TWO InkJet Printer, with
standard Touchscreen and USB Communications
Internal Software for configuring Print Messages
Stylus for Touchscreen control
USB Mouse for Printer control
Power Supply for Charging
(2) Quick-Dry Black Ink Cartridge(s)




Item: TouchJet TWO

Our Price: $1,895.00


System Accessories
Optional Upgrades and Supplies
Replacement Quick-Dry Black InkJet Cartridge
for TouchJet TWO

Ink Color=BLACK
Item:
CART-TJET-Black
Price Each:
$165.00
Replacement Quick-Dry White InkJet Cartridge
for TouchJet TWO

Ink Color=WHITE
Item:
CART-TJET-White
Price Each:
$199.00
Replacement Quick-Dry Green InkJet Cartridge
for TouchJet TWO

Ink Color=GREEN
Item:
CART-TJET-Green
Price Each:
$165.00
Replacement Quick-Dry Blue InkJet Cartridge
for TouchJet TWO

Ink Color=BLUE
Item:
CART-TJET-Blue
Price Each:
$165.00
Replacement Quick-Dry Yellow
InkJet Cartridge
for TouchJet TWO

Ink Color=YELLOW
Item:
CART-TJet-Yellow
Price Each:
$199.00