Home
>
Products
>
Handheld InkJet Printers
>
Mobile InkJet Printer Pen
dates, time, numbers and custom text in a handheld pen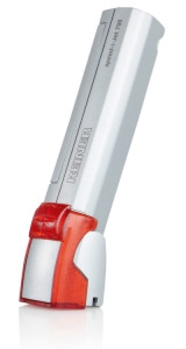 Reiner's SpeediJet 798 is a remarkable Mobile InkJet Pen. Handheld InkJet Prining for truly portable Marking of custom text, Time, Date or Numbers in a device that is quality in construction.


We're taking mobile printing to the next level. With just a flick of the wrist, the speed-i-Jet 798 effortlessly prints up to 40 characters in the blink of an eye, printing on flat and uneven porous surfaces. With it's lightweight, pocket-sized design, the speed-i-Jet 798 can be taken on the go, so you're always ready to make your mark. Consider it your new magic wand. .




*The included PC Easy Set Software allows the user to pre-configure and then download the customized imprints.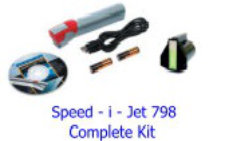 Features of the SpeediJet 798 Mobile InkJet Printing Pen


One line imprints
Character size 1/8 inch
Up to 40 characters can be imprinted
A user will press the Red Print Button on the SpeediJet 798 Mobile InkJet Printer Pen, while making a
Left-to-Right motion across (and near) the surface to be printed
Suitable for right and left-handed operators
Pocket Sized, easily carry in a Lab Coat, pant pocket or purse, or arond your neck with the provided lanyard
Store Imprint can include Custom Text, Time-Date or Numbers


The SpeediJet 798 Mobile InkJet Printer Pen is only able to print on absorbent surfaces. Ink will NOT
adhere to non-porous substrates such as, metal, plastic and glass




additional models of Handheld InkJet Printers from Reiner


The JetStamp 790 - Stationary Printhead allows for two-line printing and will perform on bulky and uneven
surfaces
The JetStamp 791 - MS Office Integration.
(selected text in MS-Word is ready for printing with 791)
The JetStamp 790MP - Stationary Printhead allows for two-line printing, with Quick-Dry Ink designed to print on,
and adhere to, non-absorbent substrates



Consider the Supplier behind the System...
"Since 1962"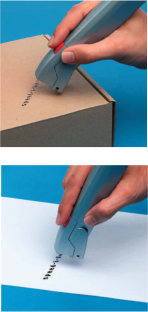 Product Resources
brochures, manuals, technical specs
Dimensions: 1.25"(w) x 6.80"(h) x 1.70"(d)
SpeediJet 798 InkJet Printer Pen
PC Set Easy Software for configuring imprints
(1) standard Black Ink Cartridge
(2) AAA Rechargeable Batteries
Item: SpeediJet 798

Our Price: 395.00


System Accessories
Optional Upgrades and Supplies
Replacement Black InkJet Cartridge
for SpeediJetJet 798

Ink Color=BLACK
MfgNo: EM790BK
Item:
CART-798-Black
Price:
$26.00
Replacement Red InkJet Cartridge
for SpeediJetJet 798

Ink Color=RED
MfgNo: EM790RED
Item:
CART-798-Red
Price:
$26.00
Replacement Blue InkJet Cartridge
for SpeediJetJet 798
Ink Color=BLUE

MfgNo: EM790BL
Item:
CART-798-Blue
Price:
$26.00