Home
>
Products
>
Handheld InkJet Printers
>
InkJet Coding and Marking Printer
expiry dates, lot numbers and text on metal and plastic parts

Reiner Handheld InkJet Marking products are remarkable in function and quality in construction.

The JetStamp 790MP Series of handheld inkjet printers has a marking and coding solution for everyone. With highly customizable text options, the JetStamp family can print single or multi-line prints with up to 20 characters per line. The MP models of the JetStamp family can also print on nonabsorbent and uneven surfaces, such as curved metal, plastic, or glass. Common uses are for, part numbers, lot and expiration dates. The user-friendly LCD display allows you to toggle through up to 10 stored prints, allowing you to effortlessly switch from one fast to the next.

*The included PC Easy Set Software allows the user to pre-configure and then download the customized imprints.
Features of the JetStamp 790MP InkJet Coding Printer


One and two line imprints
Character size 1/8 inch
Up to 20 characters maximum, per line
Unique self-traversing print head allows user to simply place JetStamp onto surface to be printed
Simple menu guidance through LCD display
Store and recall up to (10) Custom Text, Time-Date or Number imprints
MP models are able to print on non-absorbent surfaces including, metal, plastic and glass
(Ink will NOT adhere to plastics made of Low-Density Polyethylene (L.D.P.E.)
In-line integration options with 791MP and 792MP models only



additional MP-Series JetStamp Coding Printers


The JetStamp 791MP - MS Office Integration.
(selected text in MS-Word is ready for printing on 791MP)
The JetStamp 792MP - Requires unit to be plugged into power supply.
(possible in-line operations can be achieved, however, reduces
mobility compared to model 790MP



Consider the Supplier behind the System...
"Since 1962"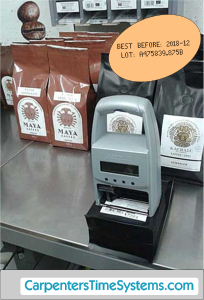 Product Resources
brochures, manuals, technical specs
Dimensions: 3.75"(w)x 3.10"(l)x 6.75"(h)x
JetStamp 790MP InkJet Printer
PC Set Easy Software for configuring imprints
Download Cradle / Charger Base
(1) Quick-Dry Black Ink Cartridge
(4) AAA Rechargeable Batteries
Item: JetStamp790MP

Our Price: $1,999.00


System Accessories
Optional Upgrades and Supplies
Replacement Quick-Dry InkJet Cartridge
for JetStamp 790MP

Ink Color=BLACK
MfgNo.-EM790BKQD
Item:
CART-MP-Black
Price:
$79.00
Replacement Quick-Dry InkJet Cartridge
for JetStamp 790MP

Ink Color=RED
MfgNo.-EM790REDQD
Item:
CART-MP-Red
Price:
$79.00
Replacement Q.D.X InkJet Cartridge for JetStamp 790MP - (for glass and difficult substrates)

Ink Color=BLACK
MfgNo.-EM790BKQDX
Item:
CART-QDX-Black
Price:
$95.00

Replacement Rechargeable Batteries
for JetStamp 790MP

(recommended by mfg)

Item:
MP-RechargeBATTS
Price:
$25.00