Home
>
Products
>
Time Clocks that Calculate Hours
eliminate employee Buddy-Punching Fingerprint Time Clocks for Small Business and Work Time Clock with Lunch Time Card Calculator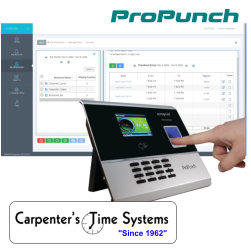 Acroprint ProPunch Fingerprint Time Clocks that Calculate Hours
The ProPunch Time Clock Software can calculate work hours for an unlimited employees. On-Site network software, runs in a Web Browser...non-hosted, which means No Monthly Fees.
Fingerprint Time Clock eliminates buddy-punching. Handles Calculations for Worked Hours and off-time pay codes such as Vacation and Sick Hours. The Timecard Calculator engine is a Time Clock Calculator with Paid Breaks or UnPaid Lunches
details and purchase page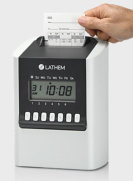 Lathem Time Clock 700e Calculating Time Cards
The model Lathem 700e Time Clock accomodates up to 100 Employees.
In Calculating mode, the 700E will calculate the hours the employee worked and will add them to a running total for that time period on the employee's time card. The time card will show Month, Year, Day of the Week, Date and the Calculations, no overtime.
details and purchase page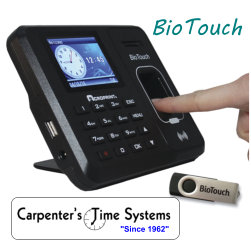 Acroprint BioTouch Time Clocks that Calculate Hours via Excel Timecard Calculator
The Acroprint BioTouch Fingerprint Time Clock is stand-alone and ideal for Calculating Work Hours, recommended for up to 1-20 Employees.
USB Flashdrive downloads employee In/Out Punches. Next, insert the USB Flashdrive into your PC, and click to open the Smart Time Card Calculator in Excel.
Edit missed punches and hours are auto-calculating, with ready to print as a Time Card Report.
details and purchase page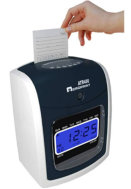 Acroprint ATR480 Calculating Time Clocks
The model ATR480 Time Clock accomodates up to 50 Employees.
ATR480 automatically calculates and totals employee work time right on the Time Card. You can set overtime thresholds, choose to implement rounding rules, and automatically deduct break times to accommodate your small business's payroll rules.
details and purchase page
UPunch Time Clock with Calculating Time Cards
The uPunch Time Clock accomodates up to 50 Employees.
Automatically calculates and totals employee work time right on the Time Card.
call for details coming soon
Calculate Time Clock Hours...we show you how to manually
1. Convert the hours and minutes Punch In and Out time(s) printed on the time card to, Hours/Hundredths.


2. Utilize a calculator to manually subtract the In-Punch from the Out-Punch....this step must be performed for every punch-pair.


3. Next, perform a Calculation to manually Add up each punch-pair written on the time card to obtain a total for the entire pay period...As you can see this is a time consuming and inaccurate process!!
The Calculating Time Clock
solves many timekeeping and payroll processing issues
Save your payroll clerk time and avoid payroll calculation errors with time clocks that calculate Regular and Overtime hours.
For the latest in the accurate collection of payroll data, choose a Calculating Time Clock. Eliminate employee buddy punching with Fingerprint Time Clocks for your Small Business that adds up worked hours.
If you prefer the idea of a paper time card clock, we still offer Time Clocks that Add Up hours right on the time card.

We Specialize in Time Clock Equipment to meet your exact requirements.

Call Toll-Free 1-888-838-5391 or Contact us via E-Mail.
Time Clock News
Time Clocks that Calculates Hours has started to outpace a traditional work time clock in the workplace and has enabled companies to do away with the inaccurate task of manually computing employee Time cards. It offers an affordable level of accuracy in the payroll process and the information from Calculating Time Clocks can also determine and inform company management with potential attendance and staffing problems. Choose to partner with a company in the Time Clock industry Since 1962, Carpenter's Time Systems.
Time Clock Software
100 to 1000+ Employees...Time Clock Software for small business and large enterprises or growing companies. Contact Us when your needs require a robust solution powered by Time Clock Software, for addressing Time Card Calculator functions found in more complex Payroll and HR Timekeeping requirements.
Information Center
Contact Us for any item below



---
P: 409-838-5391
TF: 888-838-5391
---