Home
>
Products
>
Time Clock Systems
>
Amano Time Clock Ribbon Replacement
for Amano PIX-55 Ribbon
Install an Amano PIX-55 Ribbon to ensure your Time Clock is printing dark ink for optimum readability on the time card.


Supplier for Amano Time Clock Ribbon Replacement PIX-55.
Specifications for Amano PIX-55 Ribbon


Color= Black
Manufacturer Amano Part Number= CE-315151 Black Ribbon
Fabric= Nylon



Consider the Supplier behind the System...
"Since 1962"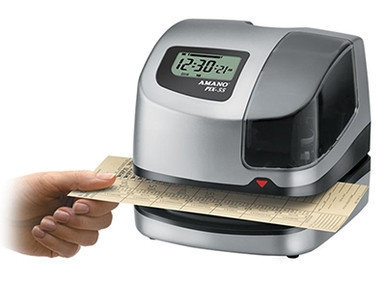 Amano Ribbon Resources
learn how to replace the Amano PIX 55 Ribbon
Item: RIBB-PIX-55-Ribbon

Our Price: $7.99
Pix-55 Ribbon Accessories
Optional model Amano Ribbons
Amano Time Clock Ribbon Replacement
PIX-95

Amano PIX-95 Ribbon
Item:
RIBB-PIX-95
Price:
$7.99
PIX-15 Amano Time Clock Ribbon

Item:
RIBB-PIX-15
Price:
$7.99
Amano Time Clock Ribbon Replacement
PIX-10
Item:
RIBB-PIX-10
Price:
$7.99