Home
>
Products
>
Time Clock Systems
>
Acroprint ARES Watchman Clock System
software powered Guard Tour Watchman System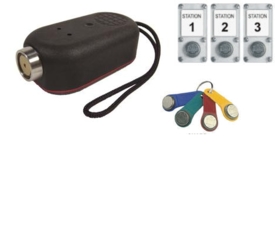 Portable Guard Tour System





These lightweight yet durable tracking systems ensure your personnel are making their rounds as scheduled. It's so easy — simply touch the handy M8000 recorder to the recording station "iButton" and it records the location, date, and time.
Features of the ARES Watchman Time Clock System


ARESIV Software is password protected
Many Reports available...Tour Report, i-Button Station List, etc.
User defined descriptions fields for, i-Button Station Names, Guard Names, Areas, etc.
Assign i-Buttons to designated "Facility Areas" for patrol
Specify allotted time, in which i-Button stations are to be visited per "Area"
Archive/Save History Data to external drive
M6000 Data Recorder
"9 volt" Cell battery provides Months of maintenance free use for the M6000 Data Recorder...maintains Date, Time and recorded data.
M8000 Data Recorder stores approx. 2500 transactions
Lightweight and Easy to Carry
Rugged Design for most possible mishandling
Key Lock required to open Data Recorder
Low Battery indicator beep



Consider the Supplier behind the System...
"Since 1962"
Product Resources
brochures, manuals, technical specs
Dimensions: 6.3"(w)x 8"(h)x 5"(d)
M8000 Watchman Clock Data Recorder
ARES Watchma Clock Software on CD
1-Year Manufacturer Warranty
30 Days Free Set Up Support
Item: ARESV-KIT

Our Price: $459.00
System Accessories
Upgrades and Supplies
iButton Stations (10-Pack)with Plastic Mounts
for ARES Watchman Clock
Item:
ARES-iButtons
Price:
$69.00
Guard ID iButton (5-Pack)Key Fobs
for ARES Watchman Clock
Item:
ARES-GuardKeyFobs
Price:
$40.00
Incident Pad for ARES Watchman Clock System
Item:
ARES-IncidentPad
Price:
$149.00
ARES M8000 Watchman Clock Data Recorder

Item:
ARES-M8000
Price:
$339.00