Home
>
Select Products for a Quote
>
Request an InLine InkJet Marking Printer System Quote
...from Carpenter's Time Systems
SoJet InLine InkJet Marking Printers
SoJet InLine InkJet Marking Printers on Conveyor
Please fill out the Request Form Below. Thanks for your interest!


We Specialize in InLine InkJet Marking Printer Equipment to meet your exact requirements.

Call Toll-Free 1-888-838-5391 or Contact us via E-Mail.
Time and Attendance Systems for the large enterprise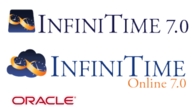 500 to 5000+ Employees...InfiniTime is the Time & Attendance software for large enterprises and growing companies. A robust solution powered by the included Oracle database, designed for ease of use and addressing complex Payroll and HR Timekeeping.
Read More