Home
>
Products
>
Handheld Inkjet Printers
>
The Bottomless Side Belt Conveyor , is known by many descriptions and by various tasks in the Packaging Equipment Machinery. The Side Belt Conveyor creates an automated conveyor system for Inkjet Coding or Side Belt Transfer Conveyor duties.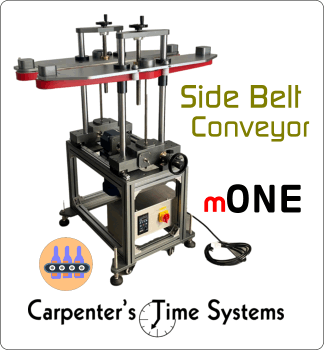 The Side Belt Conveyor , model mONE is perfect for Inkjet Marking on the Bottom of Bottles, Cans or other containers. Side Belt Bottomless Conveyor for round Consumer Packaged Goods, Cosmetics and Pharmaceuticals. Bottomless Conveyor with Side Belts with affordable price.

Common uses are for, Inkjet Coding and Marking of Part Numbers, lot numbers and Manufactured Date coding onto the packaging container bottoms.

Side Belt Transfer Conveyor for moving round Consumer Packaged Goods and Manufactured Parts and Products that are cylindrical.






*Need Customization. Give us a call and submit your specifications.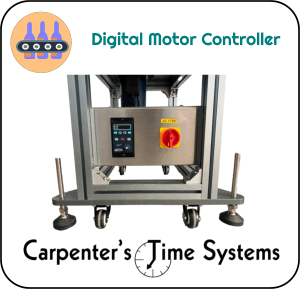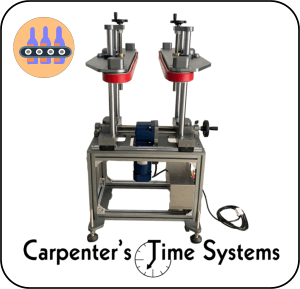 Specifications of the Bottomless Side Belt Conveyor model mONE


Quality Construction and Components
304 Stainless Steel and Aluminum
mONE is outfitted with unique one motor design
Easy Bottle Size Adjustment with Hand Crank
Optional Bottom Coding Print Head Brackets for CIJ or TIJ Inkjet Printers
Adjustable Height: 27.50"H up to 42.75"H from floor to Conveyors Side Belt
Belt Dimensions: 1"H x 36"L x 3/4" Thickness.
Minimum Bottle Width: 1mm Diameter
Maximum Bottle Width: 7.75" Diameter
Digital Speed Controller, adjustable speed
Electrical: 115V / Single-Phase / 60H
Machine Dimensions: 36"L x 24.50"W x 48"H



Consider the supplier behind your Bottomless Conveyor...
"Since 1962"
Watch this Side Belt Conveyor in action.
Bottomless Side Belt Transfer Conveyor Resources
brochures, manuals, technical specs
Dimensions: 36"(l) x 24.50"(w) x 48"(h)
Conveyor Weight: approx. 175 Lbs

Shipping Weight in Crate: approx. 250 Lbs

Shipping Crate approx. Dimensions:
45"(l) x 38"(w) x 52"(h)





Bottomless Side Belt Conveyor mONE

Integrated Frame Floor Stand

Side Belt Conveyor User Manual





Item: SIDE-BELT-CONVEYOR-mONE

Our Price: $2,750.00


Side Belt Conveyor Accessories
Options and Upgrades
iJet Inkjet Coder TIJ Printer Kit

Item:

iJet-Coder
Price:
$1,050.00
inFeed Table Kit for mONE

Item:

mONE-inFeed-Table
Price:
$250.00
Applications for Bottomless Conveyors and Glossary of common terms
Bottom Coding Conveyor
Print Text, Date/Time onto bottom of Bottles and Round Packaging..
Side Belt Transfer Conveyor
Transfer Containers from one Conveyor to another.
Hugger Belt Conveyor

Inkjet Coding and Marking Conveyor

Bottomless Conveyor Video on YouTube